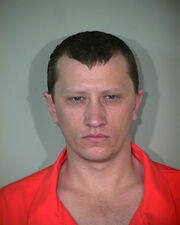 Personal Information
Edit
Arizona State Inmate # 123048
Gender: Male
Ethnicity: Caucasian
Date of Birth: April 2, 1966
Family Information: John and Wilma Greene
A.K.A. Unknown
Case Information
Edit
Pima County Superior Court Case #CR48730
Date of Offense: February 28, 1995
Victim: Roy A. Johnson, age 59 male
Criminal History Before Offense
Edit
No prior felony record; one misdemeanor theft conviction, 1986; known methamphetamine user.
Crime Description
Edit
On February 28, 1995, Professor Roy Johnson of the University of Arizona Music Department left the Green Valley Presbyterian Church (just outside of Tucson AZ) after giving an organ recital. The details of the murder are still in question, as Greene's story conflicts with the investigators'. What is known, is that Johnson was killed by multiple skull fractures from a blunt instrument and his body was left in a wash. His car, wallet, and credit cards had been taken. Greene then bragged about the murder to friends and used the victim's credit cards in a shopping spree throughout Tucson. After being arrested, Greene wrote letters while in prison bragging about the murder and about being on death row.
Judge: Bernardo Velasco
Prosecutor: Rick Unklesbay
Defense Attorney: David Alan Darby and Julie Duvall
Trial commenced on March 5, 1996. On March 15, 1996, after less than three hours of deliberations, the jury returned verdicts of guilty to First Degree Murder, Robbery, Theft, Kidnapping, and six charges of Forgery. Trial length was 11 days. On August 16, 1996, Greene was sentenced to death for the First Degree Murder charge, plus 40 years for the other charges.
Many forms of evidence was dismissed such as: Mr. Greene's accusations that the victim had solicited Mr. Greene for sexual favors in exchange for money and drugs.
Also the victims widow had previously checked out from a public library a book titled "Living with your Homosexual Spouse"
Also the victims daughter being a prosecuting attorney in Arizona sent a letter to the Govoner requesting Mr. Greene be made an "example of"
Post Conviction Information
Edit
On October 10, 1998, the Arizona Supreme Court upheld the convictions and sentences for all charges except the Kidnapping charge, which was dismissed. Only 3 of the Supreme Court Justices concurred with the affirmation of sentences; two Justices voiced their disagreements in the opinion.
Controversy surrounded Greene's case in 2000, when Johnson's widow and daughter found a pen-pal request from Greene on a website. Their efforts as victim advocates soon helped pass an Arizona state law prohibiting inmates from having internet access.
External Links and References
Edit