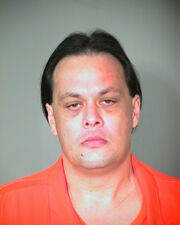 Personal Information
Edit
State of Arizona Inmate #045676
Gender: Male
Ethnicity: Hispanic
Date of Birth: April 26, 1961
Family Information: Unknown
A.K.A. Unknown
Case Information
Edit
Date of Offense: November 23, 1989
Victims:

Richard Alberts, age ?? male
Ramon Bazurto, age ?? male
Criminal History Before Offense
Edit
Crime Description
Edit
Mann decided to conduct a drug "rip-off" of a friend, Richard Alberts, and invited Alberts to buy drugs from him at his home. Alberts arrived at Mann's home on the night of November 23, 1989 with a friend, Ramon Bazurto. Mann did not expect Bazurto. They went into Mann's bedroom, where Mann handed Alberts a box that Alberts believed contained cocaine but actually contained paper. Alberts handed Mann a bag containing cash. When Alberts opened the box, Mann shot him and then shot Bazurto. Mann and his girlfriend, Karen Miller, took the bodies to Alberts' car, and Mann and another friend, Carlos Alejandro, drove to Graham County near the Fort Grant prison where Mann had previously served time, and deposited the bodies near a roadway. Mann and his Miller then bought paint and repainted the bedroom. The bodies were found the next day, November 24, 1989, but the murders remained unsolved until Mann's girlfriend confessed witnessing the murders to Washington State authorities in January 1994.
Judge: John F. Kelly
Prosecutor: John W. Dickinson
Defense Attorney: David Sherman
Trial commenced on October 25, 1994. The jury returned a verdict of guilty to the charge of First Degree Murder on November 1, 1994. Total trial length was 8 days. On February 1, 1995, the judge sentenced Mann to death for the murder charge.
Post Conviction Information
Edit
In 1997 the Arizona Supreme Court upheld the conviction and sentence on appeal.

April 23, 2003
A Warrant of Execution was issued by the Arizona District Court for the execution of ERIC OWEN MANN ADC#045676 scheduled for June 9, 2003.
April 28, 2003
A Stay of Execution was issued by the US District Court in the execution of ERIC OWEN MANN ADC#045676 scheduled for June 9, 2003.
External Links and References
Edit