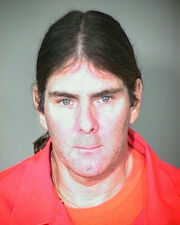 Personal Information
Edit
Arizona State Inmate #062887
Gender: Male
Ethnicity: Caucasian
Date of Birth: January 29, 1956
A.K.A. Anthony Cranston
Case Information
Edit
Pima County Superior Court Case #CR14065 & CR15397
Date of Offense: September 17, 1984
Victim: Vicki Lynn Hoskinson, Age 8 Female
Criminal History Before Offense
Edit
Convicted in 1974 of lewd & lascivious conduct on a 14 year old girl.
Convicted in 1981 of kidnapping and lewd & lascivious acts on an 8 year old boy. Paroled in May 1984.
Crime Description
Edit
The victim, Vicki Lynn Hoskinson, was riding her bike after school when she was kidnapped and murdered by Atwood. After leaving her body in the desert, Atwood fled to Texas, where he was caught and extradited to Arizona. The victim's body was not discovered until April 1985.
Judge:: John Hawkins
Prosecutor: John Davis
Defense Attorney: Stanton Bloom
Atwood went to trial on January 19, 1987, and was convicted by a jury of First Degree Murder and Kidnapping on March 26, 1987. Total trial length was 66 days. On May 8, 1987, he received a sentence of death for the First Degree Murder charge, and 25-To-Life for the Kidnapping charge.
Post Conviction Information
Edit
In 1992, the Arizona Supreme Court upheld the conviction on appeal.
Atwood married Rachel Lee Tenny, 29, on Dec. 17, 1991.
External Links and References
Edit