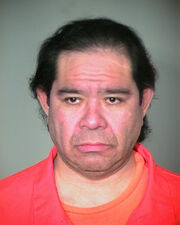 Personal Information
Edit
State of Arizona Inmate #079354
Gender: Male
Ethnicity: Hispanic
Date of Birth: February 5, 1953
Family Information: Unknown
A.K.A. Unknown
454Case Information
Edit
Date of Offense: August 26, 1989
Victim: Anthony Lopez, age 1 male
Criminal History Before Offense
Edit
Crime Description
Edit
In August 1989, Lopez was living in a Tucson apartment with his girlfriend, and their 1-year-old son, Anthony. Around 10:00 a.m. on August 26, the mother went shopping and left Anthony home with Lopez. When she returned around noon, Anthony had bruises on his forehead and chin and seemed unusually quiet. Lopez told her that the child had pulled a nightstand over on top of himself. She wanted to take the boy to a doctor, but Lopez persuaded her he would be all right. About 2 hours later, she went to the laundromat. When she returned, Lopez was performing CPR on Anthony. They took the child to the hospital where he died a short time later. The autopsy showed that Anthony had numerous bruises on his face, chest and back, a skull fracture on each side of the back of his head, broken ribs and a torn pancreas.
Judge: Margaret Houghton
Prosecutor: Sylvia Lafferty & Allen McVey
Defense Attorney: ??
...
Post Conviction Information
Edit
In 1992, the Arizona Supreme Court upheld the conviction on appeal.
External Links and References
Edit