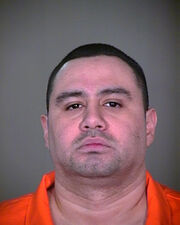 Personal Information
Edit
Arizona State Inmate # 194940
Gender: Male
Ethnicity: Hispanic
Date of Birth: February 13, 1970
Family Information: Unknown
A.K.A. Unknown
Case Information
Edit
Pima County Superior Court Case #CR20031740
Date of Offense: May 26, 2003
Offense Location: Tucson, AZ
Victim: Officer Patrick Hardesty, Tucson Police Department, age 40, male
Criminal History Before Offense
Edit
Crime Description
Edit
Officer Hardesty, an on-duty police officer, was investigating a hit-and-run traffic collision that Cruz was involved in. Cruz led Hardesty and another officer to a vehicle, supposedly to obtain identification for Cruz, who provided the officers with a false name. Cruz then ran from the officers; Hardesty chased on foot, while the other officer returned to the squad car to pursue Cruz. Hardesty's body was found a short time later. Hardesty had been shot five times, including shots to the abdomen and left eye, from point blank range.
Judge: Theodore Borek
Prosecutor: Rick Unklesbay and Thomas Weaver Jr.
Defense Attorney: Brick Storts III and David Basham
Trial commenced on January 19, 2005. After 4 hours of deliberations, the jury returned a verdict of guilty to the offense of First Degree Murder on February 25, 2005. Total trial length was 38 days. On March 10, 2005, Cruz was sentenced to death for the murder of Officer Hardesty.
Post Conviction Information
Edit
On April 21, 2008, the Arizona Supreme Court affirmed the conviction and sentence of death.
External Links and References
Edit