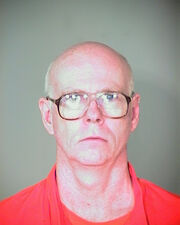 Personal Information
Edit
Inmate #099144
Gender: Male
Ethnicity: Caucasian
Date of Birth: June 2, 1948
Family Information: Youngest of three half-brothers, one half-sister
A.K.A. Thomas Edward Crown
Case Information
Edit
Pima County Superior Court Case #CR38826
Date of Offense: July 11, 1992
Victim: Hector Juarez, age 25 male
Criminal History Before Offense
Edit
Deserting, US Army, 1968-1969
Robbery, Butte County Superior Court, convicted on October 27, 1978.
Crime Description
Edit
On July 11, 1992, Kemp and Jeffrey Logan kidnapped the victim at gunpoint outside a fast-food restaurant and used their ATM card to withdraw money. They then drove the victim to Silverbell mine, forced him to disrobe, and shot him twice in the head. The victim's body was located on July 28, 1992.
Judge: Richard Nichols
Prosecutor: Kenneth Peasley
Defense Attorney: Eric Larsen
Trial commenced on June 2, 1993. On June 7, 1993, the jury returned guilty verdicts to charges of First Degree Murder, Armed Robbery, and Kidnapping. Trial length was 6 days. On July 9, 1993, Kemp was sentenced to death for the First Degree Murder charge and 42 years for the other two charges.
Post Conviction Information
Edit
In 1996, the Arizona Supreme Court upheld the convictions and sentences on appeal.
External Links and References
Edit