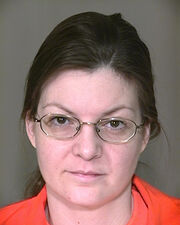 Personal Information
Edit
Arizona State Inmate #191593
Gender: Female
Ethnicity: Caucasian
Date of Birth: August 6, 1970
A.K.A. Wendi Elizabeth Ochoa
Case Information
Edit
Date of Offense: October 8, 2000
Victim: Joe Andriano, age (unknown) male (defendant's husband)
Criminal History Before Offense
Edit
Crime Description
Edit
Wendi's husband, Joe, was terminally ill with cancer at the time of the offense. At approximately 2:15 a.m. on October 8, 2000, Wendi called a co-worker, Chris, and asked him to babysit her children while she took Joe to the hospital. When Chris arrived, Wendi advised him that Joe was dying and she had not called 911. After Chris talked her into making the call, he went outside to direct the paramedics. When they arrived, Wendi did not allow them into the apartment, telling them that Joe had a do-not-resuscitate order and it was his wish to die. The paramedics then left the property.
Approximately one hour later, Wendi called 911 again. When the paramedics arrived, Wendi had blood on her shirt and was speaking to a police officer outside the apartment. The paramedics found Joe lying on the floor in the apartment in a pool of blood; he had a large stab wound to his neck and his skull was split open. An autopsy determined that Joe was killed by at least twenty-three blows to the head, likely with a bloody barstool that was found near his body, as well as the stab wound to his neck. Traces of sodium azide, a pesticide, were also found in his system.
The crime occurred in Maricopa County, Arizona.
Judge: Brian K. Ishikawa
Prosecutor: Juan Martinez
Defense Attorney: Daniel Patterson and David Delozier
Trial commenced on August 23, 2004, and the jury returned a verdict on November 18, 2004. Total trial length was 88 days. Wendi was found guilty of First Degree Murder, and sentenced to death on December 22, 2004.
Post-Conviction Information
Edit
On July 9, 2007, the Arizona Supreme Court upheld the conviction on appeal.
External Links and References
Edit